Exclusively powered by Affirm in the U.S., Shop Pay Installments gives merchants and shoppers the best possible buy now, pay later experience
Shopify is officially launching Shop Pay Installments — our buy now, pay later product specifically designed for Shopify merchants. Exclusively powered by Affirm in the U.S., Shop Pay Installments is now available to hundreds of thousands of U.S. merchants, and will be automatically enabled for new merchants when they enable Shopify Payments and Shop Pay.
With Shop Pay Installments fully integrated with the Shopify platform, merchants retain a centralized view into everything from performance to product pages to inventory. Shop Pay Installments has also been proven to boost sales: one in four merchants using it during early access saw 50% higher average order value compared to other payment methods. In addition, merchants saw 28% fewer abandoned carts through Shop Pay Installments after switching from a third-party buy now, pay later solution.
"Our average cart size on Shop Pay Installments is double that of regular checkout as more customers are buying larger bundles of our socks," said Daniel Shim, co-founder of ONDO, an ethical apparel brand creating no-show, sweat-resistant, and non-slip socks. "Having Shop Pay Installments on the same platform where we run our business has helped us get more data-driven, leading us to launch new products for the summer."
Shop Pay Installments helps merchants give their buyers flexibility when paying for purchases at checkout. Buyers can split payments into four equal installments, interest-free and with no additional fees.
By activating Shop Pay Installments, merchants unlock significant benefits:
Access to one of the largest U.S. consumer networks of any buy now, pay later provider through Shop Pay, our accelerated checkout method, and Shop, our shopping assistant app. Merchants can seamlessly serve the millions of U.S. consumers already using Shop Pay to complete their purchases and using Shop to get real-time shipping updates on their orders.
A seamless checkout experience with higher conversion and order values. Unlike other buy now, pay later providers, Shop Pay Installments allows merchants to offer a fast, easy checkout experience through Shop Pay, instead of sending buyers offsite and risking abandoned purchases. Shop Pay checkouts:
• Are 4x faster than regular checkouts 
• Have an average checkout-to-order rate 1.72x higher than regular checkouts 
• Convert at almost double the rate of regular checkouts on mobile 
Direct integration of Shop Pay Installments with their Shopify stores. Merchants are able to easily measure their performance, sales, and fees in one place — the platform where they run and grow their businesses.
With Shop Pay Installments fully integrated with their Shopify stores, including their inventory, merchants can also avoid overselling at critical moments like flash sales when offering a buy now, pay later option to their customers. This saves them time and gives shoppers a better experience.
Transparency that builds trust with buyers. Through Affirm, Shop Pay Installments helps merchants provide buyers with increased flexibility and affordability at checkout with the option to split purchases into four equal interest-free payments. There are no additional, hidden, or late fees, helping merchants build trust with their customers.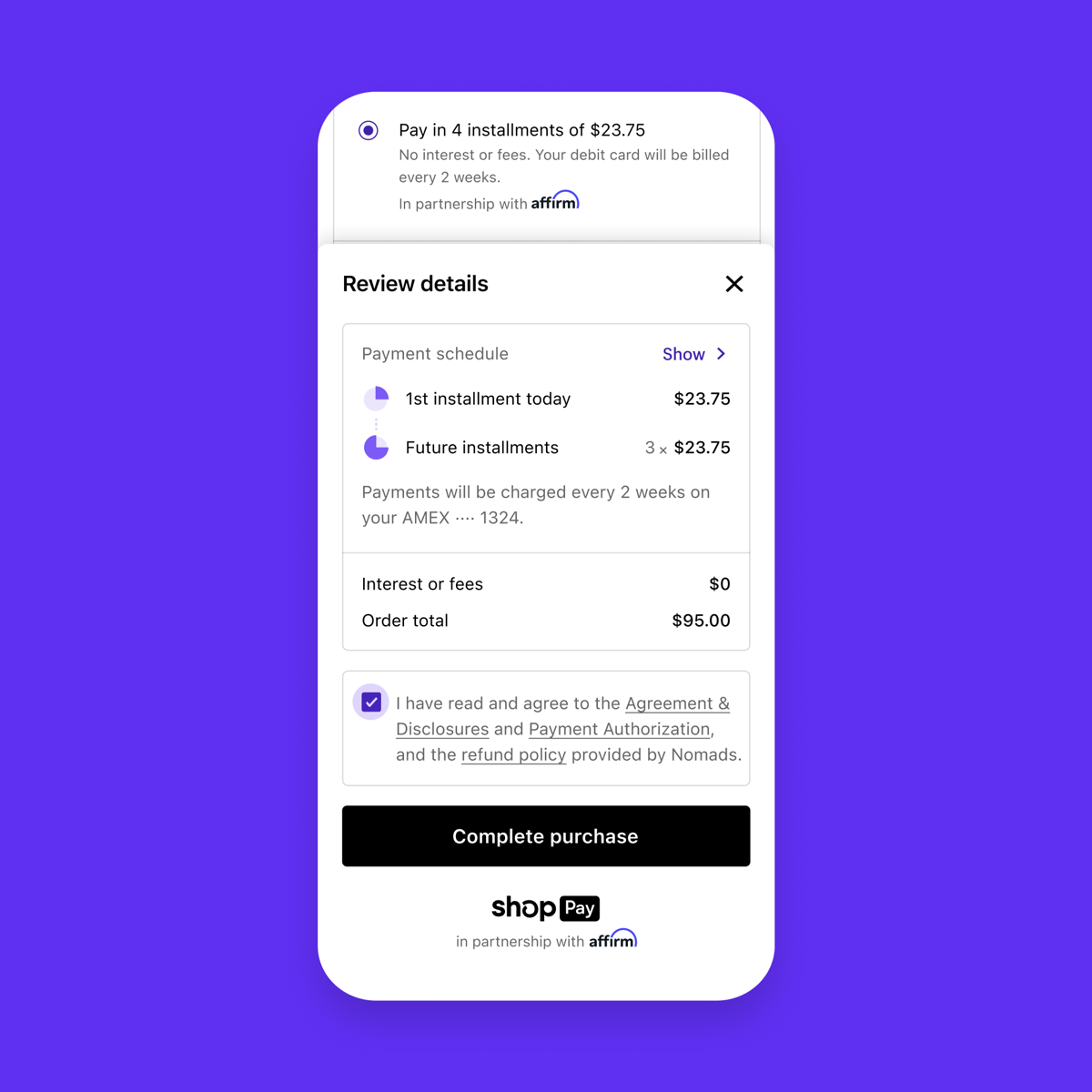 "We built Shop Pay Installments to give merchants a critical and easy-to-use financial tool to grow their sales," said Kaz Nejatian, VP, Product, Merchant Services at Shopify. "Our partnership with Affirm combines their technology and expertise in buy now, pay later with our deep understanding of our merchants' unique needs and the power of our commerce platform. Together we are delivering the best possible buy now, pay later experience for merchants and their buyers."
"All businesses regardless of size deserve access to technology that can help them grow and succeed, which is why we custom-built Shop Pay Installments in partnership with Shopify," said Max Levchin, Founder and CEO of Affirm. "At a time when consumers are demanding more flexible and transparent payment options, providing a pay-over-time solution that doesn't hit consumers with late or hidden fees is no longer a nice-to-have, but a must. We are thrilled to be making Shop Pay Installments immediately accessible to hundreds of thousands of Shopify merchants in the U.S., and the millions of consumers they serve, as we advance our vision of becoming ubiquitous."
U.S. merchants interested in Shop Pay Installments can check their eligibility here.